WORKSHOP on TOPOLOGY DRIVEN METHODS FOR COMPLEX SYSTEMS Camerino, Italy - July 18th & July 22nd, 2015 2nd EATCS YOUNG RESEARCHERS SCHOOL & SCHOOL Understanding COMPLEXITY and CONCURRENCY through TOPOLOGY of DATA Camerino, Italy - July 13-22, 2015
Location
Camerino is an historical town, known and respected since Roman times, which became important especially during the middle-age. Its old centre has seen little change over the last few centuries, leaving it a particularly attractive sight, and the opulence of the architecture is all the more impressive considering that the town can claim a mere 7,000 inhabitants. The "Da Varano" Ducal palace was one of the most sumptuous in Italy at the time, and in 1336 the University, one of the oldest in Italy, was founded.
Camerino (see photos below) is conveniently located in hilly surroundings (Marche region), near both to spectacular Appennini mountains and to the pleasant Adriatic coast. This pleasant position offers the opportunity to enjoy a wonderful panoramic view.For tourist attractions and gastronomic visit this mini guide.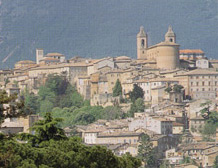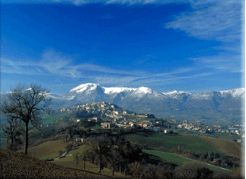 Camerino hosts a well-organized University campus, with an established international reputation and good infrastructures, located in a beautiful natural environment.
By car:
Those traveling on the A14 motorway should leave at "Macerata-Civitanova Marche" and proceed west along the highway till its end. Then, drive for about 10Km to the top of the hill where Camerino is located. Those traveling on the west side of "Appennini" mountains should reach Foligno, and then use the SS77 which will leads, after about 60Km, to the highway junction. From here, drive for about 10Km to the top of the hill where Camerino is located.

By air:
The closest airport is the Ancona-Falconara "Raffaello Sanzio" airport. City buses connect the airport terminal with Falconara railway station. Then one can use trains to reach the "Camerino-Castelraimondo" station. It takes about one hour and a half with a change in Fabriano (leaving at 20:40)
By coach:
from Rome: Coaches depart daily (except sunday) from Rome Piazzale Tiburtino 7:20 am (2:40 pm) and arrive at Camerino 11:40 am (7:00 pm). Coaches leave daily (except sunday) Camerino at 6:00 am (15:35 pm) and arrive to Rome Piazzale Tiburtino at 10:20 am (20:15 pm). A shuttle train connects Rome-Tiburtina station with Rome-Fiumicino "Leonardo da Vinci" airport ever half an hour.

By rail:
The railway station "Camerino-Castelraimondo" is a minor station. It is only connected to a greater station, Fabriano, located along the route Ancona/Rome. There is a regular bus service connecting the "Camerino-Castelraimondo" station with the city center.
---
---
Sponsored by: